Accurate, Affordable and Accelerated Processing for UAS Remote Pilots
Introducing DroneMapper REMOTE
Pierre Stoermer, CEO – DroneMapper.com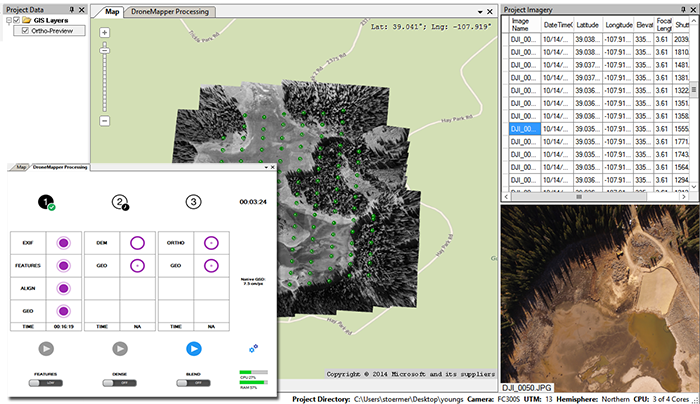 In 2017, DroneMapper will be offering its photogrammetry software to the UAS mapping marketplace, as a Windows application. REMOTE will provide geo-referenced orthomosaics and digital elevation models (DEMs) in the field on your laptop in near real time. Without packing up your UAS mapping platform, simply load your imagery into the application and generate a preview orthomosaic to confirm all went well with the collection. At the site or back at the office you can choose to finish processing at scaled resolutions for quick turnaround or at higher resolutions (REMOTE EXPERT) depending on your client's needs. A free version, RAPID for DJI will also be offered to allow Remote Pilots operating DJI Phantoms or Inspires to evaluate the software for smaller areas of interest. Features of all offered versions are shown in the table below: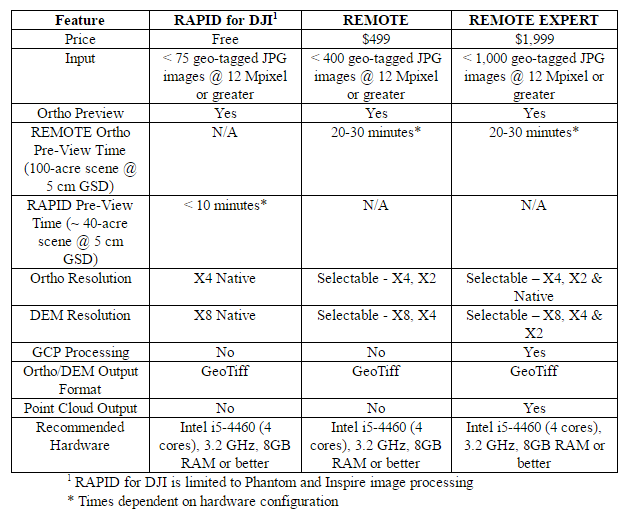 Times shown in table are for the Intel i5-4460, 3.2 GHz (4 cores), 8 GB RAM with 3 of the 4 cores utilized for processing. Your times will be dependent on what laptop hardware you bring to the field.
The chart below illustrates the total time for scaled ortho and DEM production in the application vs the number of images loaded using the hardware described. This is the time to produce an ortho at X4 native and the DEM at X8 native resolutions.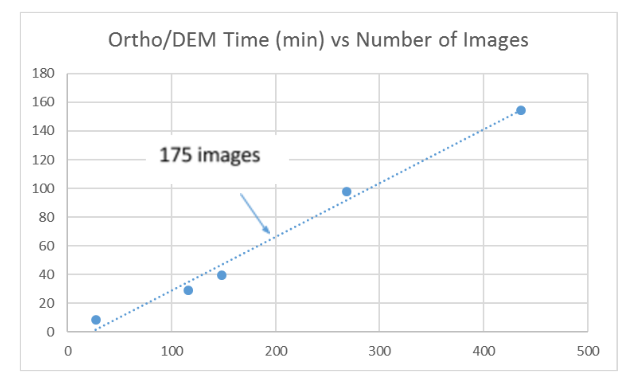 For the 100-acre scene the scaled DEM and ortho will render in about an hour, inclusive of the preview ortho time. For RAPID's 40-acre scene scaled products are generated within 20 minutes.
REMOTE provides very quick feedback on the quality of the collection using the data Preview function and accurate scaled output products that are usable for applications requiring topography, contours and volumetric estimates.
REMOTE EXPERT adds additional functionality in output product scale selectability, use of ground control for absolute mapping accuracy and the ability to map much larger areas.
Please contact us for additional information on our RAPID and REMOTE software products.
The DroneMapper Team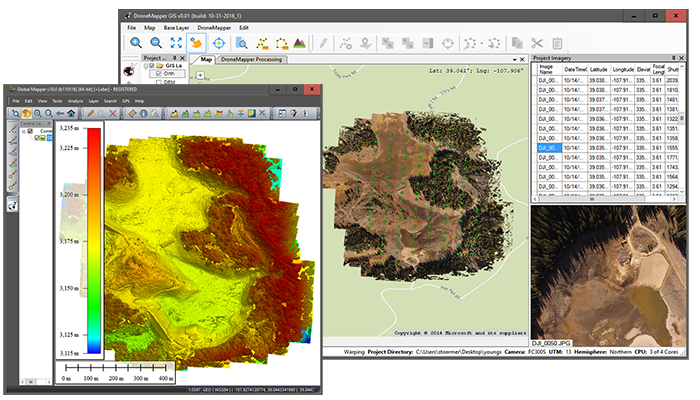 *DroneMapper REMOTE DEM product viewed with Global Mapper v18